Well I thought this day would never come, but before I could get my head around the idea that today would be the day, I was holding my beautiful son in my arms!
Wednesday 10th October 2007
01:30AM     Barbara says that she 'feels' different and there is a little blood loss.
03:36AM   The 'plug' falls out.
05:10AM     Contractions are occurring once every 4 minutes … called the midwife.
07:10AM     Contractions occurring every 2.5 minutes … instructed to go to the hospital.
07:30AM     Barbara is already dilated to 8cm, but the water has not yet broken.
09:00AM     Water breaks.
09:10AM     Pushing starts … and videoing 


09:56AM     Nathan is born … weighing in at 4050 grams!!!
10:15AM     JJ cuts the umbilical cord.
01:00PM     Parents and son are sent home.
I cannot even start to say how happy we are and how wonderful Nathan is. I cannot believe how fast the time went by. Now with the snoozing, feeding, and changing every 2-3 hours, the concept of time does not apply in this house any more. I cannot even acknowledge the fact that I was working in the office on Tuesday. It feals like weeks ago. Luckily I recorded most of it on video, so I will have the opportunity to see it all over again in slow-motion!
Well here is the first picture of Nathan … saying hello to Grandma! When he gets a bit older, I will explain hand gestures should be done behind her back!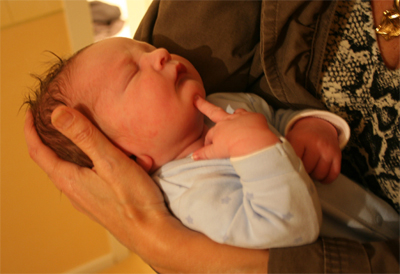 Thank you Lord for blessing me with such a wonderful son!