So here we are, on the threshold of another new year, wondering what improvements the year 2008 will serve to us, preferably with a side order of greasy chips to help lubricate the way forward. Many of you (I cannot use the term 'us' in this circumstance) will be starting the year with the same old shovel in your hands preparing to dig yourselves into a hole with new year resolutions that fizzle out over the year without being accomplished.
Not me! I am not one to have new year resolutions. But wait a moment … maybe I am missing out on some enlightenment that accomplishing resolutions brings? A greater reason for why so many torture themselves year after year with setting resolutions. Maybe I am disturbing the whole fabric of the time space continuum by not participating in this sadistic ritual?
Ok then … for this year only … I will make some new year resolutions! But how many? By the standardised accounting principles of Genies … 3 seems to be the magic number. Ok … 3 resolutions. But what 3 resolutions would be enlightening? Maybe the good bible can give me guidance … 1 Corinthians 13:13 … "But now faith, hope, love, abide these three; but the greatest of these is love."
Resolution 1: Faith
"The miracle isn't that I finished. The miracle is that I had the courage to start." This year it is my resolution not only to enter the 'Great Yorkshire Run' and 'Great North Run', but to run them as well … or at least walk them. Believe me … you need a whole lot of faith to get through them … as well as a lot of stupidity in the first place. That is why I will also be entering my three nieces into the 'Great Yorkshire Run' for moral support. After all, the runs are about raising money for good causes … and that's a good thing.
Resolution 2: Hope
Why do the words 'hope' and 'lottery' have a stronger correlation than any other two words in the dictionary? Why can't 'win' and 'lottery' be more cooperative? My next resolution is to play and win the lottery this year! As at least 50% of the proceeds goes to charity, this resolution is also about doing things for good causes. Weak argument, I know. A stronger argument is that I am doing it for Nathan, so that I have 'hope' of a brighter future for him.
Resolution 3: Love
For me this is the easiest. My final resolution is to love Barbara (despite being a Scorpio woman) and Nathan even more than I did before. And this extends to the family. But as our family extends to into other families, I wish to pay special attention for two other remaining 'haasjes' … my mum and Angie (who has been a haasje longer than the rest of us

). Of course there will always be one extra special haasje … Jan Albertus de Haas (25.04.1923 – 19.01.2002). In the future words of Jan Nathan Leonid de Haas (born 10.10.2007) … "Daddies are best".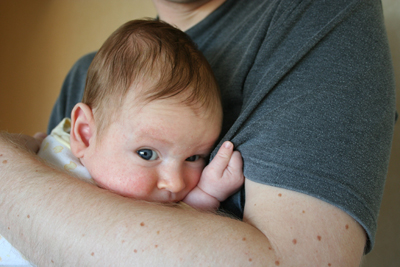 Now that I am already well on my way to fulfilling my three new year resolutions, I feel that I have got 2008 off to a good start!
To family & friends … have a very prosperous and loving 2008!