It was a grand day indeed! A good day to break my 54:47 minute record from last year, with the wonderful support of my family again, with two new supporters! Barbara & my little boy! Well … Barbara was there because she knew that Meadowhall would immediately follow the run. Anyway …
There beside me, to help me look like to can run fast, Gabby! Actually, the photo makes it look like she is holding me up, but that is due to Richard's poor photography skills … get a Canon like everyone else!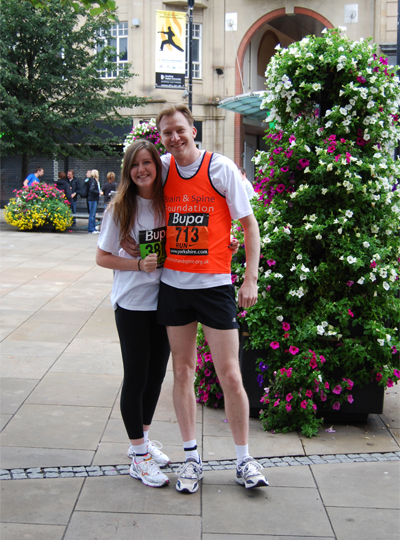 With Anita, Angie, Richard, Barbara & Nathan joining the masses to get us started on the run, I was well motivated to get a good time … if not for the simple pleasure of limiting their time in Starbucks!
Well, I crossed the finish line in a new record of 52:02 minutes, with sufficent time to walk to Starbucks just in time to see my supporting party (missing at the finishing line) emerge from their sinning!
Aye they are a right bunch, but I love them. Next year I will sign-up the whole lot of them! Plus I will have my eye on breaking the 50:00 minute mark!
Anita, Angie, Richard, & Gabs … thanks again for the memorable day!
Hannah & Tala … you really missed out!
Love JJ xxx