When I stepped off the plane on Saturday at Leeds Bradford airport, I was welcomed by a bitterly cold wet Yorkshire autumn wind. It was so cold, I noticed Eskimos heading south for the winter on the next Jet2 flight! It was a horrifying moment of realisation that I would only be wearing my running gear for the Great North Run in this weather. Ok … I know that it is a horrifying moment of realisation for anyone trying to picture me in my running gear, but nevertheless have some sympathy!
Fortunately on Sunday, whilst it remained cold and wet in Holland and the South of England, the hills of North England basked under the sun and the beautiful clear blue sky! The runners were escorted by the magnificent 'Red Arrows', who flew overhead and provided amazing breathtaking displays at the end.
All in all … the Great North Run remains an amazing event with 52,000 runners appearing as an endless human carpet from Newcastle to South Shields.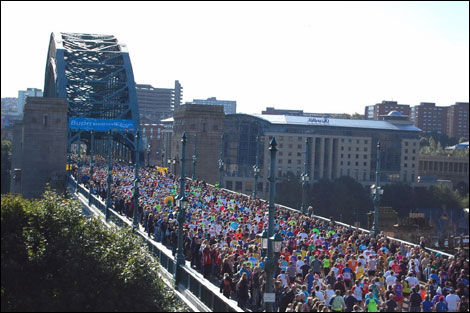 And with a time of 02:05:21 hours, awarding me the place of 16,064th, I am really enjoyed my last Great North Run … wait a minute … I still did not beat Richard's time. Bugger!

Next year is all about beating Richard … bring on 2009!